Tom Robinson just played our song 'Hilary' on BBC 6 Music. Brilliant!
You can listen to the show by visiting this page http://www.bbc.co.uk/6music/shows/tom_robinsons_introducing/ and following some links and things. It's the show dated 23rd August, we're on fairly early and you can listen back any time this week. If that's what you're into.
Good then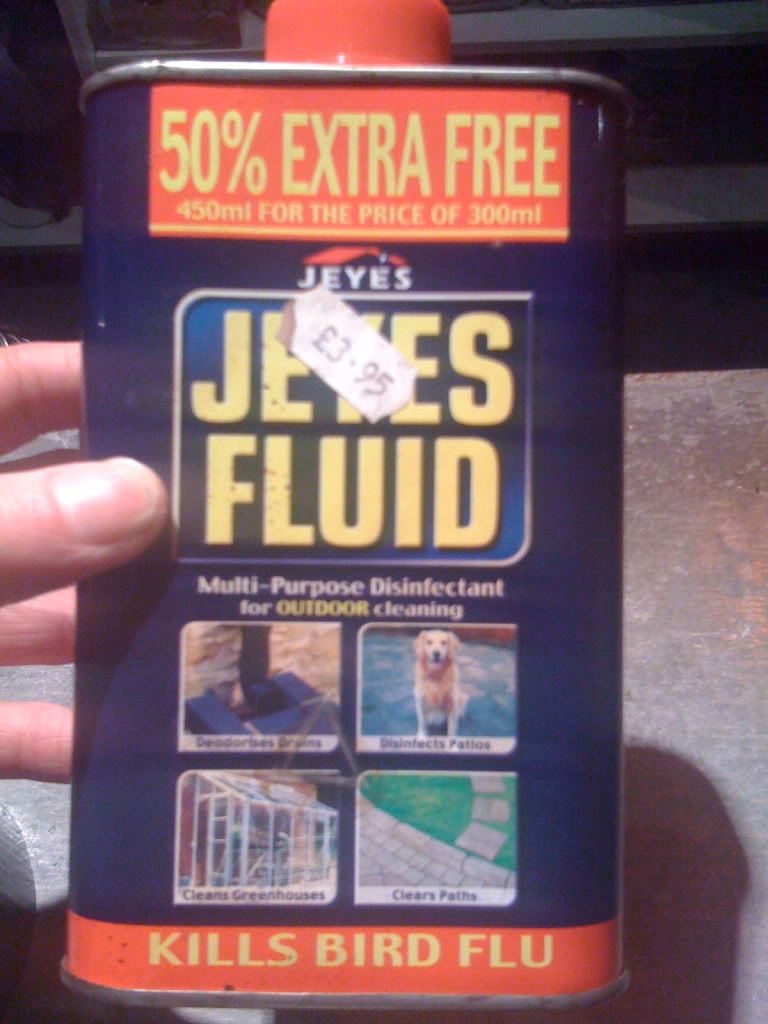 At £3.95, damn. That is a whole lot of Jeyes Fluid. I could clean multiple things with that. I mean lots of things. So long as they were outdoors, I could clean them.
But I have some problems with Jeyes Fluid.
Firstly, what is it? Until I found this in a cupboard several weeks ago, I had never heard of Jeyes Fluid in my life. As we all know, I am a busy man. My priorities mainly steer away from cleaning things outdoors. If I left them outside in the first place, surely that means I don't give a crap about them, right? Otherwise I would have brought them in?
But also, I know it's a bad photo, but I'm fairly sure the picture on the top left of the tin says "Deodorises Drains". Whoa now. Back up the Jesus Bus. That's a different gravy right there. That's not like cleaning some moip off a Barbecue or Patio Heater. That's 'deodorising' something that supposed to be full of shit and smelly. Brian Eno once famously said after producing U2's fifth studio album 'Joshua Tree'
"You can't polish a turd."
Evidently Brian Eno hadn't heard of Jeyes Fluid. If so that album wouldn't have sucked so bad.
It gets worse. The picture on the top right of the tin says "Disinfects Patios" and shows an image of a dog on a patio. Insinuating that the patio is now clean enough for the dog to safely travel over without infection? Im not sure. What is clear to me is if I had spent actual time disinfecting a patio, (if that can actually be done), I certainly wouldn't let the dog walk about on it afterwards. The dog would be miles away from the patio if anything. I'd probably be eating off the patio or something to drive the point home that it was disinfected.
The tin also claims the fluid "Clears Paths". Also not true. People clear paths, with brooms. But that isn't the worst claim. Oh no no. It gets far worse. The worst claim is in bold yellow text at the bottom of the tin. That's right, at the bottom in the red strip. Now you see it? Yep, there it is. Jeyes fluid "Kills Bird Flu". I repeat for emphasis, Jeyes Fluid can kill bird flu. Completely kills it. No worries. Kills it dead. Done.
How does Jeyes Fluid kill bird flu? And why didn't anyone inform our government during that tough time? Do we drink it? Do we have to be outside when we drink it for it to work? Does it kill Swine flu too? It probably does considering it promises to polish turds and deodorise drains. If I rub Jeyes fluid into all birds in my garden, am I safe from all types of flu? What's a hypotenuse?
So many questions, so few facts. As always in this scenario, I decided to check the ever knowledgeable and always factually correct, Wikipedia.com for the answers.
Wikipedia told me and I quote,
"Jeyes Fluid is a brand of disinfectant fluid made in Thetford, Norfolk, England. Its is for outdoor use only."[sic]
I'm not sure if the sick in my mouth is because the lack of an apostrophe in the word It's, or the fact that someone actually wrote 'Its is'.
'It's' fundamentally being a word created as a contraction of 'It is' or 'It has'.
Don't get me wrong, if the sentence had been possessive like,
"The Jeyes Fluid ate its dinner, twice."
Then I would have been totally cool with it lacking an apostrophe. All in all I think the sick in my mouth is because Wikipedia was wrong about something. Wikipedia is never wrong. Never.
In conclusion, Jeyes Fluid is not only completely pointless, and possibly made up, it also meant U2 continued to make music after the Joshua Tree album. If that turd had been polished, maybe they would have thought they couldn't have topped that record and called it a day. This is a shame.
http://en.wikipedia.org/wiki/Jeyes_Fluid
Our brand new single 'Hilary' came out on Monday 27th July, the same day we played Guildford with Dave House and Gavin Osborn. That was a good day. Thanks to everybody who has ordered a copy online, picked one up at a show, from Acorn Records, Yeovil or Banquet Records, Kingston. We really appreciate that support and the kind comments on our webpage.

If you've not got yourself one yet and you'd like to, you should do that quick, we only made 300 and people keep buying them! http://encyclopedia.bigcartel.com is the place to go, or if you're shopping at Banquet online add one to your cart here http://www.banquetrecords.com/index.jsp?item=11278. Thanks.

We've spent the past few months working on a new album in my garage. It'll be called 'Difficult Season' and released this Autumn, again on the Tshirt Records label. Among the tracks included are:

'Nightbus From Brixton', '07/08: Difficult Season', 'Heartache', 'Jen's a Model (And I'm a Rocker)' and 'Buddy, You Got No Idea'.

We've been playing all these tracks at our shows just lately. Maybe let us know if you saw one of those.

We'll be in touch soon. Ba