Choosing a coworking space may not be as easy as it sounds. However, asking yourself the right questions is enough to help you focus on the really important elements and make the right decision. Since we know exactly what doubts and uncertainties can plague freelancers, startups and self-employed people, in this article we will give you the right tips to find the perfect coworking space for you!
The key is to ask the right questions. How can we redefine the concept of the workplace to cope with the increasingly precarious work-life balance? The decision to cowork is a solution we found by observing the evolution of the world of work. Originally, this phenomenon mainly affected the self-employed, but recently it has spread to businesses and public administration.
As coworking becomes more widespread, more and more people are asking the question: where is the best place to work from? People often resort to working from home (home office), but there are often problems there. First, an apartment may not have the proper amenities that an office, even in coworking, can provide. A home also lacks the proper separation between work and personal life; inevitably, the two overlap, making it extremely difficult to separate them or at least try to set boundaries.
Faced with this problem, coworking was the answer: a space that functions like a traditional office, but with the hourly flexibility of self-employment and, above all, costs that are easier to pay. Especially in big cities like Frankfurt, coworking spaces are playing an increasingly important role. Many companies in Frankfurt rent coworking spaces in order to be able to react flexibly to the Corona regulations (home office obligation, health protection measures, flexible working). In parallel, classic office spaces are moving into the background.
Choose a coworking space based on the people who work there
It may sound like a platitude, but the truly crucial element in choosing a coworking space is the people you'll find there. Working in shared spaces, especially if you choose an open space, is functional for the constant exchange of information and opportunities for collaboration between coworkers.
Increased productivity can be the result of new opportunities that arise spontaneously, perhaps while you're talking to your colleague about this and that during your lunch break. Just seeing how others work, organize a meeting or attend to clients is a growth factor. Not to mention the individual and professional incentives that come with being part of a community when it comes to staying current, having access to information, sharing ideas and thinking outside the box.
The networking that a coworking space provides is the real added value. Are there community-building activities like workshops for your business or a calendar of events? Is there a dedicated web platform or app for the community?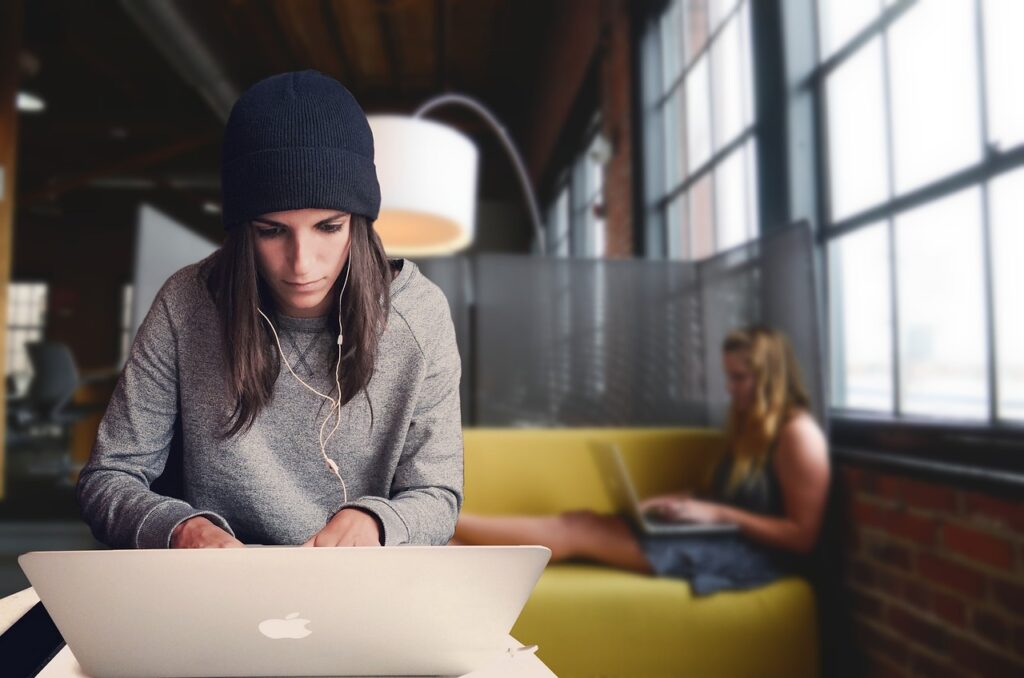 Related to the concept of community, but a bit more subtle in terms of framework, it's important to understand the perspectives of the coworking space you're looking at, i.e. how it acquires customers, what events it organizes, and what educational opportunities it provides to coworkers.
services and facilities
Coworking allows you to share many services and facilities that are usually included or offered as optional extras, at a very affordable price and, most importantly, with the ability to activate and deactivate them as needed.
Besides having a perfect work environment to focus on, it's also important to find a coworking space that offers everything you need to maximize your work experience. What kind of internet connection is available? Are there organized spaces to host webinars? How are clients received?
Of course, services don't just help with work, but also with work-life balance. Some offerings can be very helpful to relieve stress or create interactions, such as free coffee and tea or a lounge with a foosball table.
First and foremost, it should be kept in mind that not all coworkers have the same needs. Coworking can be the solution to the problem of where to work for different types of workers: Freelancers, self-employed, startups, employees of companies and public administrations.
Each type of coworker needs different services and that's exactly why choosing the right coworking space requires doing some research first.
choose a coworking space by location.
One of the key elements when choosing a coworking space is the location and the environment. It's important to consider travel time when choosing your next shared workspace. Ideally, you need to check if it is accessible by public transport, if there is parking for members and at what price, even for clients who will visit you.
A facility in an outlying area, but perhaps near a highway exit, might suit you better than a place in a central area that is easily accessible by car. On the other hand, we don't recommend choosing a coworking space that is too far from home and perhaps not well connected.
Both for the accessibility and the location of the facility, the area in which it is located counts. The prestige of the neighborhood, the presence of shopping or hotels and gyms can be extremely beneficial in everyday life, but also for professional success. It goes without saying that well-located coworking spaces can have above-average prices.
How safe is the coworking space?
Last but not least, there is also the question of security. In any office, thousands of documents, work tools and personal belongings are stored. Although you are the first guarantor of your own privacy and that of third parties, it is important to check if the coworking space has personal lockers or other solutions where you can keep everything and still have the guarantee of a good surveillance system and fire, theft and liability insurance.